Build your own teaching business today!
The purpose of this unique program is to provide quality education and aid in the prevention of problems before they arise in daily family life. These classes provide teachers the material they need to teach the importance of raising an emotionally and psychologically healthy child in today's world.  This course is a ready-made teaching business for an entrepreneur looking to run their own parenting classes, or for other organizations, such as schools, community centers, churches, counselors, etc.
Prevention of Problems

Fantasies, Expectations

Healthy Lifestyle Considerations

Relationships

Family Dynamics

Child Development

Healthy Brain Development

Beliefs & Values

Healthy vs. Unhealthy Parenting

Discipline
Sample Pages from our Parent Empowerment Program Workbooks: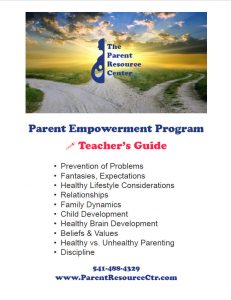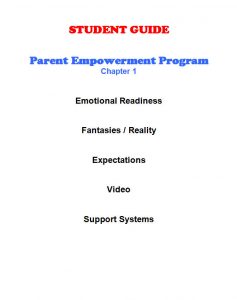 PLEASE WATCH OUR VIDEO WHICH EXPLAINS THE PARENT EMPOWERMENT PROGRAM AND HOW YOU CAN TEACH IT YOURSELF!
Comments on our Parent Empowerment Program Training:
"The more people who come in contact with children that are given this type of education, the better off our children will be.  This information is invaluable.  It is so very needed and should be accessible to all."  Tracy H.
"This training should be mandatory for all prospective parents.  So valuable on so many levels, especially divorced parents, to help themselves as well as their children.  I would recommend this training to all parents, educators, child caretakers.  It opened my understanding on many issues."  Ginger P.
"Thought provoking and inspiring information that challenges beliefs and patterns of modern parenting.  This training demonstrates clearly how to initiate more effective and more respectful and empathetic parenting.  Good material, effective, and ethical information."  Siri David A.
"This training was the best.  It hit home.  I learned so much positive information on parenting and how to understand our children's minds and emotions.  There needs to be more training available to our communities so we can help our children and be better parents.  This was wonderful information that I can take home and use."  Jessica R.
"This workshop answered many questions I had as a parent, and many I didn't even know I had.  It helped me see the places I have strength and what I want to improve in my way of approaching communication with my children.  I have much to learn."  Carol H.
"I think that the need for forums regarding all aspects of parenting are more crucial than ever.  Thank you for providing this!"  Rod M.
"As a parent, I'm continually evolving and trying to adapt to my children's needs.  This course was not a "how-to", but gave ideas on how to navigate parenthood.  It gave a better insight into the fact that men and women and women think differently and children's needs are perpetually changing and require adaptation.  This was a great primer for delving into what it means to be a parent and how to try to navigate through children's feelings."  Philip V.
"Really good heads up to parenting issues in general.  This information is pertinent to parents.  Good quality, good use of time, good array of different presenters."  David B.